Jim Barnum – Founding President: Designer / Project Manager
Jim started skateboarding when he was 11, at which time "skateboarding" simply meant setting up the neighbour's plastic garbage cans, bombing down the hill & blasting through them. 28 years later, he is a sponsored skateboarder and an internationally respected skatepark design specialist. He has 15 years of skatepark design, project management and construction under his belt, and is responsible for day-to-day contact & coordination with our Clients.
RANDOM FACTOIDS: Jim loves a good conspiracy theory, and occasionally facilitates meditation workshops. He has also just started ocean swim training for an upcoming surf trip to Peru! We hope he comes back.
Ken Meyer – BFA, 3D Animation Certificate –3D Modeling / Design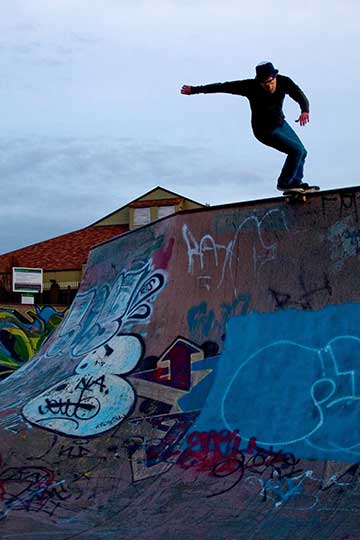 Ken started skating in the summer of 1984 on a Santa Cruz "Street Skate"…those were the days! Ken's mastery of rock & rolls (FYI that's a skateboarding trick) is eclipsed only by his mastery of Maya (nerdy!!) and other powerful 3D animation software. Skaters love his realistic "video game style" 3D images, and the building his 3D models of them acts as a final check on drawing accuracy. Ken's ability to insert rendered park images into existing site photos, and to create "skate through movies" of the parks are big bonuses to our Clients, who often use these for fundraising and marketing.
RANDOM FACTOIDS: Ken plays drums in Futur T's, a punk / metal trio, sculpts and teaches classes in sculpting strange creatures in plasticine, and also works in the film industry as a visual effects artist and 3D animator. A true renaissance man!
Kevin Baxter – Drafting / 3D Modelling
Baxter started skating in Winnipeg in 1997, moving as quickly as possible to Vancouver, the promised land of Canadian skateboarding. He then obtained his certificate in structural drafting and design, moving immediately into work at a bridge engineering firm. He has firm roots in the Vancouver skate scene, developed through volunteering at Leeside (Vancouver's DIY skatepark), acting as treasurer for the Vancouver Skateboard Coalition, and an incredible devotion to skating our Hastings bowl.
RANDOM FACTOIDS: Baxter got married to his lovely wife Sidne at Spectrum's Hastings Skatepark (which conveniently allowed him time for his daily skate session). He also plays guitar and sings in The Tubuloids.
George Faulkner – Graphic Design / Marketing / Photographer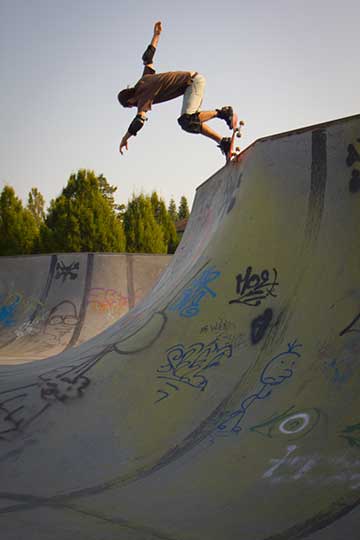 George started skating in 1984, and was bred to shred in the amazing snake-run skateparks of North Vancouver (alongside Jim Barnum). A self-taught graphic designer and videographer, one of those guys who can pick anything up and be good at it almost instantly, George was born to be awesome. His freelance clients have included Greenpeace Canada, the National Film Board of Canada, Microsoft, and the Nature Trust of BC.
RANDOM FACTOIDS: We are very lucky to have George here at Spectrum, the Faulkner line was almost burnt at the stake for witchery in the 1700's! He is a great musician, a very artistic yet rugged fellow, and was the first Canadian on the cover of Transworld Skateboard Magazine back in 1989.